Online School Meal Food Ordering Systems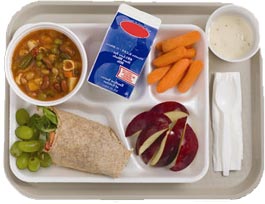 Primary and secondary schools are under government pressure to go cash-less within the next few years to help combat acts of bullying and theft.
The ForBrains online school meal ordering system is believed to be the first of its kind capable of handling sickness, paper / telephone / online based ordering and payments, with support for local education authority paid for meals, payment of school clubs/trips/uniforms... and links directly into schools and the catering provider. Parents can login, view the schools menu weeks in advance, order and pay for meals online using their credit or debit card, or order meals online and pay by cheque or cash if they prefer. Parents can select clubs for their child and pay online. They can also pay for school trips in installments, order books, school uniforms, and see a calendar appropriate for their child. Meal collection reports allow parents to see if their child collected their lunch, and where a school has a deli type catering service, the parent can see what the child selected.
Catering companies benefit in a number of areas: improved food stock level control, automated food ordering, reduced food wastage, delivery reports for meals not made in-house, bespoke reporting and integration with existing systems, they can display nutritional information about each meal option.
School staff get weekly / daily reports showing what has been ordered, seating plans (if needed), allergen management.
Parents can print menus weeks in advance and order online, changing their mind up to the specified cut-off time. They enter allergy infomation to help protect their child, and feedback on each meal consumed (if they wish). Parents can communicate directly with the Catering Manager in relation to a meals ingredients weeks in advance.
The ForBrains Food Ordering System is highly configurable and every system provided to-date has had unique features added to it and bespoke integration to streamline the various systems catering companies use. ForBrains are a software solutions company; all our products are tailored to your specific business needs as Standard.
Our school meal ordering system is currently being sold into schools, and school catering companies across the UK. Feedback from parents and schools is good, and ForBrains hopes to reach it's 1.4 million student / 2800 school target by September 2014.
Call us now on +44 700 3400 332, or the number above, and
we will provide you with login details to our online demo system so you can try out all the standard features for yourself
.
You can read our press release "
Order school meals online to combat school theft
" for more details and to learn about some of the benefits for all parties associated with school meals.
---
| | |
| --- | --- |
| Enter your query or feedback below and we will get back to you: | Telephone: 07003 400 332 (UK) |