Bluetooth 2D Barcode Scanners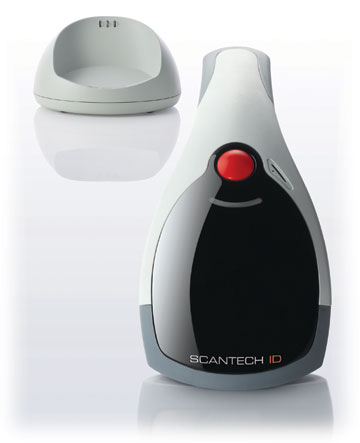 The new VEGA series Bluetooth barcode scanners from Champtek are now held in-stock as a result of out-performing all other tested 2D cordless barcode scanners. The V-1020BT Bluetooth barcode scanners come in two varieties: 10m (Class 2) and 100m (Class 1). We only pick the best products to recommend and supply directly to our clients. Prior to picking a cordless barcode scanner to put our name to we conducted extensive testing in real-life business environments.
Both the Class 1 and Class 2 devices contain a 1400mAh Lithium-ion rechargable battery. The only differences between these two versions are the class of Bluetooth used, and hence the Class 2 device battery can in theory perform more barcode scans than the Class 1 device between recharges. Both devices lasted three solid days of testing after a full charge without a visit to the recharging cradle.
The V-1020BT Bluetooth barcode scanner supports all common 1D and 2D barcodes (eg. DataMatrix, Aztec, QR, PDF417, and the new GS1 DataBar codes). When holding down the trigger button ergonomically placed under the thumb, the device scans at up to 200 1D scans and 56 2D scans per second. This very high performance means the user can very quickly and effortlessly scan barcodes. In our tests normal size barcodes could be scanned from 500mm away, 100mm if reading through folded transparent plastic packaging. This scanner is ideal for warehouse and POS terminals. The full barcode scanner datasheet can be viewed here for the Class 2 (10m) version.
The V-1020BT that we stock are the USB HID interface versions. The cradle has a detachable cable allowing existing cabling to be used if upgrading USB scanners. These Bluetooth barcode scanners are suitable for any POS terminals supporting either USB or Bluetooth. If the system has Bluetooth support the barcode scanner can be configured to communicate directly with it, bypassing the cradle. The cradle is the barcode scanners recharging station. A full charge takes around 3.5 hours.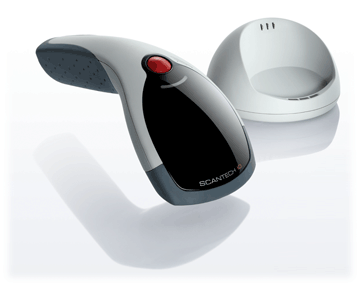 The cradle has three LEDs, the barcode scanner has an LED status indicator and speaker for audio and visual feedback. Upon a barcode being successfully scanned and transmitted to the PC a green light and single beep comes from the hand held scanner.
We are very proud to be able to supply this scanner in the UK. Its stylish design, long scanning range and battery life makes it suitable for all day use. It comes with an alternate transparent cover allowing you to place and advert or your company logo in the scanner for customer facing environments.
Excluding VAT the Honeywell Class 2 IT4820i Cordless 2D can be sourced for around £900, the Datalogic PowerScan PM8500 (USB kit) for around £720. These are the two scanners on the market with similar specification to the V-1020BT that we offer.
ForBrains supply both Class 1 and Class 2 V-1020BT Bluetooth barcode scanners to businesses in the UK. £575 per unit exVAT for the Class 2 and £595 per unit exVAT for the Class 1 version. Discounts are available when ordering more than one unit.
Each order comes complete with: USB HID interface to PC from Bluetooth charging cradle, mains charger, bluetooth barcode scanner (A276003 V-1020BT C1 or A274003 V-1020BT C2) and quick start English user manual. You can download the full user manual directly from these links. The device does not require any drivers as it uses the Serial Port Profile (SPP) to communicate to Bluetooth compatible devices and if using the cradle the USB connection is standard HID.
1D Barcode Symbologies Supported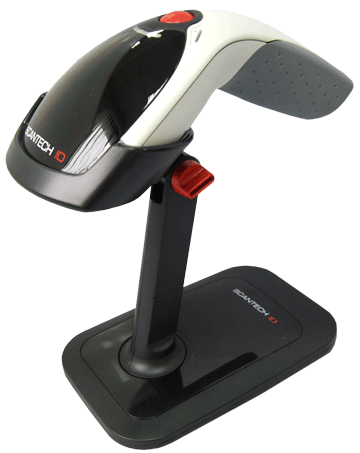 Codabar
Code 11
Code 39
Code 93 / 93i
Code 128
EAN 8
EAN 13
EAN 128 / UCC
GS1 DataBar Expanded
GS1 DataBar Limited
GS1 DataBar RSS-14
Interleaved 2 of 5
Industrial
ISBN
ISSN
Matrix
MSI Code
Plessey
Postal codes
Standard 2 of 5
Telepen
UPC A
UPC E
2D Barcode Symbologies Supported
Aztec
DataMatrix
PDF417
MicroPDF417
MaxiCode
Quick Response (QR)
UCC
EAN Composite
The holder shown above is one of the additional accessories that is available for the V-1020BT. Please contact us for more details on 07703 184 699, 07703 184 699 or

.