Some good deals on business hardware
Here are some of the products we recommend to our clients, configure and install. If you want a piece of IT hardware for your business take a quick look through the select products below - it will help move you in the right direction.
---
Raspberry Pi Battery Pack




The Raspberry Pi computer is powered via USB cable. This amazing device allows you to power your Raspberry Pi and low power monitor for hours without the need for mains. Your Raspberry Pi connects to the 2A socket and your 500mAh (or less) monitor connects to the 0.6A socket.

8400mAh battery pack - mobile charger

This 8400mAh battery pack allows you to charge two USB chargable devices at the same time. One 2A output and one 0.6A output. Lovely, very slick must have device for anyone with a mobile on the move. Charge your mobile phone, camera, tablet PC, wireless keyboard / mouse, MP3 player, portable hard drive... Note: Despite the gallery indicating it does, this item does NOT come with a carry case. It does come with a variety of connectors.
---
10.2 inch Android tablet - WIFI, MIFI, HDMI 1080p, Speakers, Camera, GPS, 2 USB, microSD, Ethernet

Wireless 802.11b/g/n 150Mbps
USB Adapter


Have a laptop or desktop computer that you wish had WIFI? (and a USB port spare)

---
100m Bluetooth Barcode Scanner - USB HID interface, charging cradle, reads all common barcodes
1D Barcode Symbologies Supported
Codabar, Code 11, Code 39, Code 93 / 93i, Code 128, EAN 8, EAN 13, EAN 128 / UCC, GS1 DataBar Expanded, GS1 DataBar Limited, GS1 DataBar RSS-14, Interleaved 2 of 5, Industrial, ISBN, ISSN, Matrix, MSI Code, Plessey, Postal codes, Standard 2 of 5, Telepen, UPC A, UPC E
2D Barcode Symbologies Supported
Aztec, DataMatrix, PDF417, MicroPDF417, MaxiCode, Quick Response (QR), UCC, EAN Composite
3 In Stock
£595.00 + VAT
We were so impressed with this piece of hardware during our trials that we recommend it, and keep them in stock. This scanner reads though clear plastic wrappers, is very tolerant and fast; if your eye can read the barcode so can this scanner! It even works in strong daylight.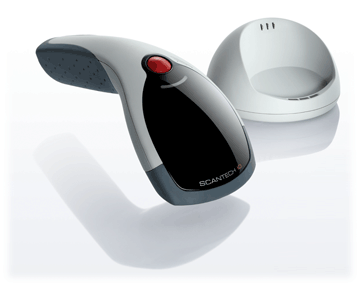 You can download the product brochure / technical specification and full user manual directly from these links. No drivers are required as the device uses the Serial Port Profile (SPP) to communicate to Bluetooth compatible devices and if using the cradle the USB connection is standard HID.
If you know of a better cordless barcode scanner for warehouse or till use for the money, PLEASE let us know. We pride ourselves on stocking only great products at the best prices.
---
HTC Desire HD - new
no contract (SIM free)




500Gb Portable USB 3.0 Hard Drive




5Gb/sec transfer rate, works on Windows, Linux & Mac. Powered from USB. Only 11cm by 8.3cm - fits in your pocket.
---
1U Quad WAN Gigabit VLAN SSL VPN DMZ Firewall & Router (924Gbit/s)


Have multiple Internet access points in your business and want to utilise bandwidth across them? Worried about hackers getting into your corporate network?


2U 16Tb NAS - redundant PSU, dual Gigabit LAN, FTP server, Web server, RAID 0,1,5,6... and MUCH more
---
| | |
| --- | --- |
| 1U TP-Link 48-Port Gigabit Switch for 19-inch rack | 1U 8 Port KVM for 19-inch rack |
---
| | |
| --- | --- |
| 1U TP-Link 16-Port Gigabit Switch for 19-inch rack | TP-Link 16-Port Gigabit Switch for Desktop or Cupboard |
---
3U 6000VA HP UPS with 9 240V outputs


Do you have a telephone system and host servers within your building? Imagine the cost a power cut could have - corrupted data, lost sales, lost emails, clients cannot call you... This monster UPS delivers 6000VA of power, keeping your servers, routers, switches, telephone system and Internet connectivity powered for hours while hopefully power to your building is restored!


1U 16 Port KVM with built-in 15 inch screen, keyboard and mouse


Do you have a keyboard, mouse and monitor hanging around in your server room? Fed up of balancing it on a shelf or bending down to the floor? (17 inch screen versions available)

---
802.11n 150Mbps Wifi Router with VPN


A 4 port 100Mbps switch with 802.11n wifi access point supporting up to 150Mbps per connection. PPTP VPN support so you can access your home network securely over any internet connection.
Note: Remember to set Router Switch to On to enable features in configuration screens - else set in home user mode.


Long Range Wireless Keyboard & Touchpad


This tiny keyboard is great for controlling your computer from a distance. Simply plug the included USB dongle into a USB port on your computer then sit back and control your computer from your armchair. There is no pound sign, but there is a backlight great for cinema experiences.

---
802.11b/g/n 450Mbps Wifi Public Access Point


With connections for 6 external antennas this little gem is what you need for streaming live HD video at rural music gigs or adding wifi internet access to your caravan parks.


Outdoor 2.4GHz 18dBi Long Range 802.11b/g/n Antenna


Put one of these in each corner of a typical large caravan park and connect it to your access point hardware and provide 2.4/2.5GHz wifi coverage to all your pitches. Note: an additional antenna will be needed for 5GHz wifi if providing that to your users.

---
7" 1.5Ghz Android Capacitive screen - 8Gb Fineslate W70


800*480 capacitive screen, USB, mini USB, HDMI, 802.11 a/b/g/n, Headphone socket, microSD slot (<=32gb), 3000mAh battery, rear and front facing cameras.
This black tablet has a great capacitive screen, looks great and has good build quality. Screen is difficult to read in bright subnlight, and battery typically lasts around 4 hours when in constant use playing games or watching videos. The rear facing built in speaker is rather quite. Superb budget device for indoor use with headphones. Perfect for kids and perminently mounted applications.


Integral Fusion 32GB USB 2.0 Flash Drive


Comes in 8Gb, 16Gb and 32Gb flavours, each with colour identification. Runs Live Operating Systems (is bootable). This tiny device is an "install and forget".

---
Buffalo Airstation G450 Nfiniti Wireless-N 5dBix3 High Power Router and Access Point


Great features, speed and range.


Kingston Technology HyperX 3K 2.5 inch 480GB SSD


Awesomely packaged, looks fantastic (not that we care once installed). The 240GB model has read: 555MBs, write: 510MBs. Very fast SATA Rev. 3.0 2.5" 9.5mm high drive.

---
USB 8000 DPI Laser High Precision Mouse with 9 Programmable Buttons and Weight Tuning Cartridges


Four DPI (Dots Per Inch) settings accessible with button on top of mouse - ideal for switching betwen fine movement (pixel perfect) work and faster mouse movements. Configurable accelleration, 4 different polling intervals, configurable light.


PowerGen 14Ah External Battery Pack - 3A output


Check out the 8.4, 12 and 13Ah versions too depending on your appplication; each support charging at 0.6A or 2A and have multiple outputs for powering/chargin more than one device at a time. Built in torch on the 8.4 and 12Ah versions.
This device is ideal for powering Raspberry Pi, Arduino or other embedded processor applications.

---
32GB USB 3.0 Flash Drive 20MB/s Write


This USB 3.0 flash drive is great for running operating systems from USB or fast backup of data. It is just large enough to be able to remove from your USB port. It is suitable for "plug and forget" solutions. If 32GB is a little large there is also 16GB and 8GB versions available (from this listing) but the Write rate will drop at a linear rate; something to be aware of with some applications.


500m of Class F (Cat7) SSTP PIMF Ultra Fast (10 Gbit/s) Ethernet Cable


This Class F cable (also known as Cat7) is suitable for 10 Gbit/s Ethernet over a 100m length (also slower Cat5e and Cat6 networks). Besides the entire cable being screened, with Class F cable each twisted pair is also screened.

---
Wireless Bridge, Router, AP, Extender...


This 150Mbps wireless N device (10/100Mbps Ethernet) is superb for many wireless applications. Simple to use web-based configuration tool. Contains a configurable DHCP server, supports 20Mz and 40Mhz, configurable SSID & wifi channel. Very basic router settings. In Wifi Extender mode give it power and your SSID and WEP/WPA password and it will extend your existing wifi network from its location. In Bridge mode it can connect a wired network switch to your wifi network, or an ethernet socket on your computer to your wifi network. Device has an 10/100Mbps RJ45 socket, a Micro-B USB socket to supply power and a Reset button. Ships with 5V 1A USB mains power adapter, USB cable and ethernet patch cable. It can be bus powered from a USB port. 10/10 rating, every IT Networking Engineer needs one in their bag!