100m Cordless 2D Barcode Scanners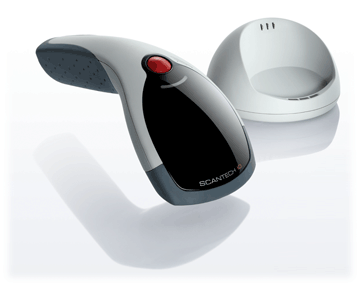 ForBrains are very proud to be able to bring you the stylish VEGA Series cordless barcode scanners, V-1020BT. Utilising Class 1 Bluetooth wireless communication it boasts a cordless range of up to 100 metres (depending on environment) from its receiving Class 1 device, which is typically the included USB cradle / charging station.
Supporting all common 1D and 2D barcodes, this very high performing Class 1 Bluetooth scanner can reach distances up to 100 metres, making it perfect for taking deliveries, picking products and POS terminals. You can view the barcode scanner datasheet here but this is for the Class 2 version (10 metre range). The difference between this and the version we supply is the Class of Bluetooth used. These scanners support 2D barcodes such as DataMatrix, QR Code, Aztec, PDF417, MaxiCode...
The USB HID interface allows you to easily use this scanner with existing software on a variety of operating system platforms.
It can scan barcodes from 440 mm away, through plastic and in dark or bright daylight environments at a rate of up to 200 linear and 56 2D barcodes per second (in automatic scanning mode suitable for conveyor belt systems). In manual scanning mode it scans as fast as you can press the red button which is ergonomically placed under the thumb.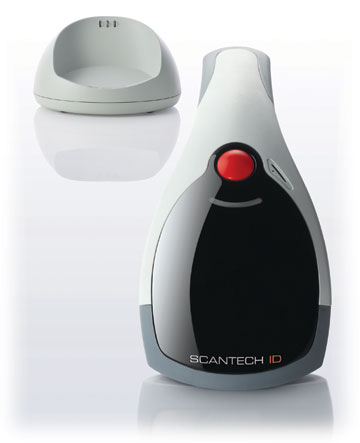 We only recommend the best products after conducting our own independant trials in real life environments, and then being able to source them directly from the manufacturer. Champtek, Honeywell and Datalogic 2D cordless scanners were all tested and we found the Champtek VEGA series to be the scanner to recommend to our clients and stock ourselves for resale.
Audio codes and multi-colour LED inform the user whether the code has been read and successfully received by the PC connected to the cradle. The cradle has a mains supply and is used to charge the hand held cordless barcode scanner which has an in-built rechargeable Lithium-Ion battery.
It has a very stylish design, long range and battery life, supports all common barcode types, and read through packaging materials we didn't expect it to. Folded plastic, even in direct sunlight was not a problem for the Champtek cordless barcode scanner; as a result we are very proud to be able to supply this device in the UK.
Excluding VAT the Honeywell IT4820i Cordless 2D can be sourced for around £900 and has a 10m (Class 2), the Datalogic PowerScan PM8500 (USB kit) for around £720.
We can supply the V-1020BT Class 1 cordless barcode scanner (sometimes refered to as V-1021BT) to businesses in the UK for £595 per unit exVAT, or £565 per unit if ordering 5 or more. (The V-1020BT Class 2 scanner can be supplied for £575 exVAT)
This is a full kit solution (not just the cordless barcode scanner). The kit includes: USB HID interface to PC from Bluetooth V2.0 Class 1 charging cradle, mains charger, cordless barcode scanner (A276003 V-1020BT C1 or A274003 V-1020BT C2) and quick start English user manual. You can download the full user manual directly from these links. No drivers are required as the device uses the Serial Port Profile (SPP) to communicate to Bluetooth compatible devices and if using the cradle the USB connection is standard HID.
1D Barcode Symbologies Supported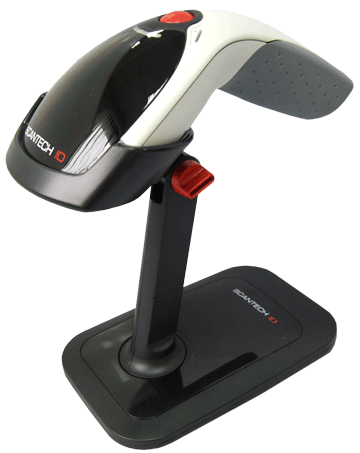 Codabar
Code 11
Code 39
Code 93 / 93i
Code 128
EAN 8
EAN 13
EAN 128 / UCC
GS1 DataBar Expanded
GS1 DataBar Limited
GS1 DataBar RSS-14
Interleaved 2 of 5
Industrial
ISBN
ISSN
Matrix
MSI Code
Plessey
Postal codes
Standard 2 of 5
Telepen
UPC A
UPC E
2D Barcode Symbologies Supported
Aztec
DataMatrix
PDF417
MicroPDF417
MaxiCode
Quick Response (QR)
UCC
EAN Composite
A variety of accessories are also available for separate purchase, like the holder shown above. Please contact us for more details on 07703 184 699, 07703 184 699 or

.