Class 1 cordless 2D barcode scanners for under 600GBP
Barcode Scanners
Published: 2010-07-28 at 18:36:55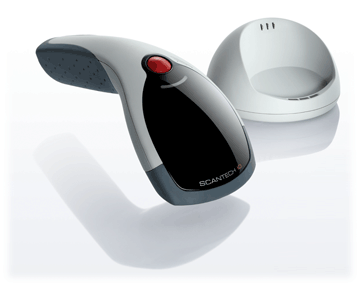 ForBrains proudly makes the Champtek V-1020BT available again in the UK.
The V-1020BT comes in Class 1 and Class 2 Bluetooth varieties. Class 1 reaching up to 100 metres and Class 2 up to 10 metres. This superb high specification cordless barcode scanner reads all common 1D and 2D barcodes and handles direct sunlight (and dark) environments and can read through crumpled transparent plastic packaging.
ForBrains only recommends products that we have thoroughly tested in real life business environments; we have no hesitation recommending this product.
It out performs all other cordless 2D scanners tested and has an ergonomic, stylish design.
We supply the scanner with manual, USB-HID interface and cradle which is also the scanners charging station. A full charge takes around 3.5 hours and then comfortably lasts a full day in most businesses.
You can read more about this fantastic scanner on our
100m Cordless Barcode Scanners
page. Here you will also find the full user manual and brochure / technical specification.
We are very privileged to be able to offer this top of the range specification scanner, which is very popular in the far East, for under £600 (exVAT).
Back to other news this month